February 14th, 2014 (by Steve)
Go to Gibraltar. It rocks. Or does it? It's a place that I really wanted to go to, just to see what it's like. Would we find a little corner of Britain in the med? Well… I think we found that already in the Costa del Sol! Would we find a throw-back to 80s Britain? Would we find a Spanish city that was British by name only? Would it be a place where cheap cigarettes and monkeys are the main attractions? By that I don't mean that monkeys are cheap… from what we saw of a local walking past them with food, I think they're the equivalent of pigeons in Trafalgar Square… only the tourists like them.
Well, in all honesty, even though we've been there, I don't think we've got a definitive answer to any of those questions. It's a bit of an enigma as a place. On the one hand, you've got a high street with some recognisable British brands (Marks + Spencer, Early Learning Centre, WHSmith, BHS). On the other hand, you've got a patch of land which is Spain within a stone's throw and North Africa within a short ferry ride. On the other hand (hmmm… too many hands… maybe they're monkey hands?) you've got a place full of off-licences and people going back into Spain clutching handfuls of cheap cigarettes and cheap spirits. I guess the best description would be that it's pastiche Britain (mmm, pasty of Britain… what I wouldn't give for a Cornish pasty now!). It doesn't make the views any less beautiful though.
So whilst we were trying to fathom the conundrum that is The Rock (not to be confused with The Rock or The Rock), what did we get up to there? Well we actually visited it twice from Bertha's parking spot a couple of hundred metres away in Spain. The first time we ventured there, we had a little wander around the main shopping streets before working up an appetite by climbing upwards as far as the entrance to the nature reserve. What better way to satisfy an empty stomach than with fish and chips (or sausages and chips) from "Roy's Cod Plaice" (which ironically didn't have plaice on the menu… or rock!). You'd think that we'd been away from Britain for more than 3 months if you'd seen us devour that meal on the bench. A welcome meal indeed, washed down with a proper pint shortly afterwards!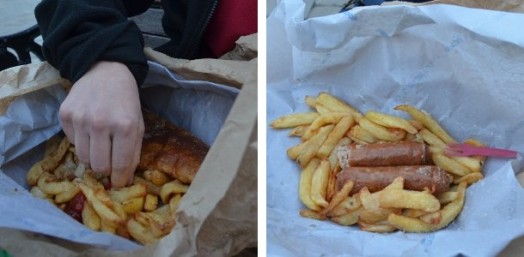 The following morning we once again left Bertha in Spain (nope, we didn't take her over to Gibraltar, even though petrol was so much cheaper there… even though it was her 24th Birthday) and this time we had to wait to get into Gibraltar, as the Easyjet plane was coming in to land on the runway which separates Gibraltar from Spain. It's the strangest level crossing that we've ever walked over!
Even after a mug of builder's tea each, we couldn't get our heads around Gibraltar… and the more we thought about it and discussed it, the deeper we got into the philosophy of "ownership" of land… which yielded many more questions, but no answers.
So there you have it. Gibraltar. Go see it for yourself and please let us know if it makes sense to you.